Specialising in seasoned hardwood logs
Log Load Prices (delivered)
1m3 - Loose load - £100
2m3 - Loose load - £190
3m3 - Loose load - £285
4m3 - Loose load - £380
5m3 - Loose load - £450 -

A saving of £25

Bags of logs - £5 each (sold at the farm)
Netted bags of  logs - £6 each (Min order 20)

Kindling -

£3.50
Natural fire lighters (50 per bag) - £4.50 each
Builders Bag
90 x 90 x 90CM - £80 Collection only.
Please ring to arrange an appointment for collection.
Seasoned Logs Delivered
We deliver seasoned split logs direct to your door, our loads are 1 cubic metre in size (1M3) and are delivered from the back of our delivery truck. We can also provide bags of logs for collection only and kindling nets and natural fire lighters*
*delivered if ordered with a delivery of logs. 
To give you an idea on log load sizes, a one cubic metre load is shown below, for more load sizes  please take a look at our gallery images by clicking here.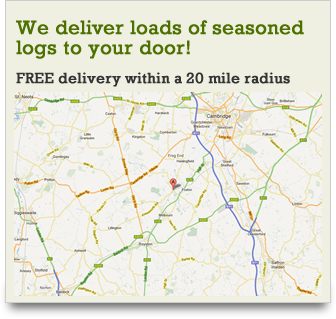 Bags
Bagged logs
£5 collection only
Kindling
Netted kindling
£3.50 collection only
*delivered if ordered with a delivery of logs